Book Rating: 4/5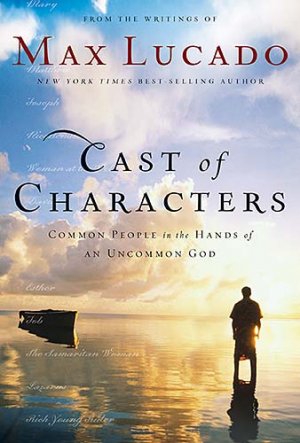 This is the first book I have ever read by Max Lucado, and I must say, the best non- fiction book I've read in a very long time! Most devotional/inspirational books-that I've read- are dull and lifeless. Not so with this book! Lucado takes a "cast of characters" from the Bible and places them in real life situations, allowing you to relate easier to them. For instances, take Moses. The scene pans to a murderer, reduced from the life of a big-shot, to a janitor. Ever heard the story of Moses like that? I have now! Each chapter is ended with thought provoking questions pertaining to that chapter.
Lucado's writing style is easy to read, and flows. I stayed up into the wee hours of the night, wanting to finish this book!
The only complaint I have is that he used one word that is not acceptable in my house. I don't care ____.
Not considered "horrible" for most, but not acceptable in my family. Otherwise, I was very pleased with the book. I would jump if given the chance to read another of Max Lucado's books.
Romance level: Below Jane Austen. Some Bible references to harlotry and prostitution. But nothing you wouldn't find in the Bible!
Violence: low (again, nothing you wouldn't find in the Bible)
Negative content: One inappropriate word not used my house.
This book was given to me courtesy of Thomas Nelson.